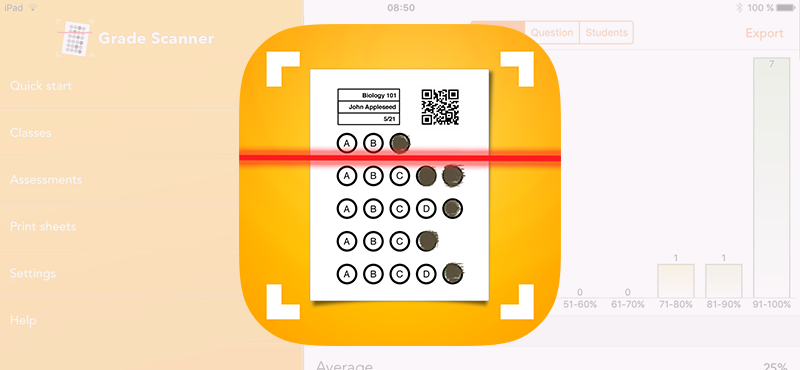 GradeScanner for iPhone and iPad
Grade Scanner is a powerful and easy to use app that grades bubble sheet assessments automatically.


Create your classes in no time, configure the answers to your assessments and start scanning once your students have filled the bubble sheets.
Grade Scanner will show your student's score in real time.
You may export your data to XLS,CSV, to iDoceo, sync with Google Classroom or review stats from the app.
These are its main features:
– Universal app, works on iPhone and iPad. Does not sync between devices.
– Password protect GradeScanner with Pin or Touch Id
• Create unlimited classes
– Import XLS files or templates from iDoceo
– Add students from your contacts list
– Add students from Google Classroom
– Add students thumbnails
• Create unlimited assessments
– Any number of questions from 1 to 100
– Use 50 or 100 questions sheets
– Print sheets directly from the app or download from our web
– You may change an assessment configuration on the fly without having to rescan sheets.
• Easily scan all your sheets
– View the score for each student in real time, as you scan.
– Detailed view of sheet analysis
• Review scores and stats
– Average, Median, Std. Deviation, Max. and Min. score
– Graph by answers/questions
– Sort by result
– Export to XLS/CSV
– Export to iDoceo
– Sync scores with Google Classroom
Do not hesitate to contact us if you miss any feature!
Attached below you will find the bubble sheets for 50 an 100 questions.
The number of questions can range from 1 to 100 despite the sheet you use